At last, a good honest post!
I wont lie i have been awfully stressed and arguey and awful the past few days/weeks(/life) but we all get over it!
Everytime i've done something oh so remotely interesting i've thought ohh blog blog blog. Not that much has happened except for lots of going to the gym and compensating by eating too much chocolate and sweeties. I'm allowed thought it's exams right?
I've also been thinking about my blog as a whole. I keep reading other people being profound and poetic and romantic and lots of other things and i just like them lots! Sadly my blog shall never be like that and be forever dominated by my massive over use of exclamation marks. (i was tempted to put one then and didn't!)
Anyway.
Food.
I've made some interesting things this week and have more interesting things tomorrow.
First thing's first.
Heart shaped foods... well, heart shaped anything.
I LOVE them, food in a shape of any variety makes me mega happy but heart shapes just always win.
Here are two examples:
The first is heart shaped 'spinach and cottage cheese mash' and the second is a heart 'quick bake flapjack'. I won't bore with the recipe but rest assured they were both GOOD. (also please ignore the pathetic looking baked fish it looks awful but was really very nice!!)
Next, Banana Oaty Biscuits.
Lovely lovely, as with my banana bread recipe my flatmate and i added a few spices to punch up the flavour. The recipe needs some tweeking though to get it just right so if we make them again i will post it. N.B: the fresh banana goes totally black over night if you don't put lemon on them... we forgot!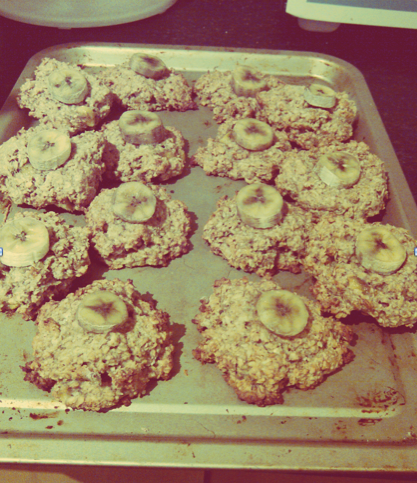 Finally, i think, my phone.
Isn't it amazing! Before coming to university i was hardly a girly girl but now i just cant get enough of pink and cute and flowers and all things sickening!
I must get a grip before i have to enter the real world but until then i will be quite happy with my added sparkle :)
Now for future excitement, tomorrow Cate and I (Kate and Cate!) are hosting 'Cocktails and Cupcakes' at out house. By hosting it it more having a few people round for a mid exams knees up complimented with lots of home baking!
I am making a chocolate chip loaf, Percy Pig Cupcakes and Malteser Cupcakes!!!!!! That deserves exclamation marks agreed? Cate is making margarita ice cream using Nigella's recipe (http://www.bbc.co.uk/food/recipes/margaritaicecream_87463) and here is a cake another friend is bringing…
Amazing yes - Oreo Cake.
God i'm excited.
More pictures will be taken on my terrible camera phone (I will take real pictures one day when i can be bothered to bring my camera around with me) and everyone will rejoice.
It's getting late now for an old lady like me.
xx