I know i know it isnt a new thing (especially my American readers!) but honestly the idea of the two together made me weep! how can soemthing as pure and fantastic be ruined by peanut butter? but...
I am a convert!
Yesterday i discovered Joy, Joy the Baker.
My new icon, idol and love. She is totally hilarious, visit her site at
Joy the Baker
. I read her article on how to impress boys with baking (not that Jim needs impressing) and i figured i should try a nice manly treat, she suggested these
Chocolate Peanut Butter Pretzel Brownies
.
Three words - yum, yum, YUM!!
Not only boys like them, my mum, cousin, sister and friend liked them too (all girls!). Need to try one out on my dad really, if he liked them then it would be an achievement! (Jim liked them too, i took him some this morning).
My attempt...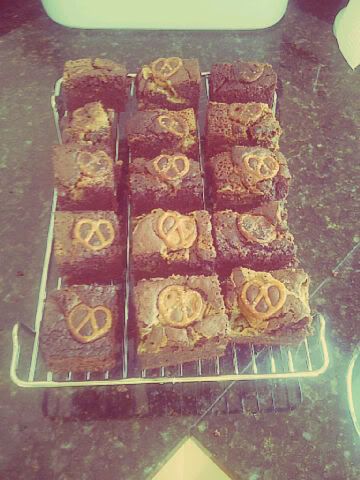 A little brown because of the aga but delicious non the less, because of the melting and whisking eggs in one at a time it's quite a long recipe, especially when you're converting cups to grams and your parents are having an inky nightmare in the kitchen at the same time, but that certainly isn't a bad thing. Not eveery recipe needs to take 15 minutes.
I'd give the recipe 10/10 very lovely, very very lovely.
Try this definitely!!
Prague post will come tonight or tomorrow, i've got abit of a secret project to do tonight so we'll see.
Happy start of the week
xx