Yesterday Jim needed cheering up and i had half a jar of peanut butter left over so my usual response was to bake.
I had found a recipe in a book in urban outfitters that was simply marvellous but it was too much hassle for a quick bake session and i didnt have the time to be kneading the dough whilst reading it poetry really.
So i settled on a good old
BBC recipe
and adapted it a little to make them nicer!
Ingredients
8 tbsp plain flour
1 tbsp caster sugar
1 tbsp light brown sugar sugar
3 tbsp crunchy peanut butter
1 free-range egg yolk
50g/1¾oz butter, softened
2 tsp vanilla extract
2 tbsp of finely chopped mixed nuts
icing sugar, for dusting
Method
Preheat the oven to 180C/350F/Gas 4.
Throw it all in the bowl and mix (carefully or flour goes everywhere and your mum will shout!) into a smooth dough.
Break off equal portioned cookies, mine were as stated and about the size of a walnut.
Squish with a fork to make a pretty patterns
Bake for around 10 minutes and then leave to cool on a cooling rack.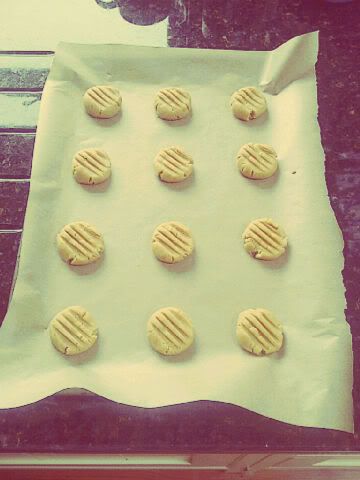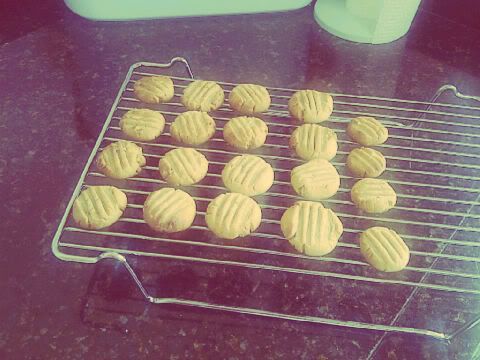 Now, the verdict.
They are very very short, so i probably would use a little more butter and the whole egg in the future. I know the batter consistency would change but i like biscuits a little more doughy!
To make mine really yummy i sandwiched them together with some Vanilla Buttercream.
It made them not too dry and delicious!!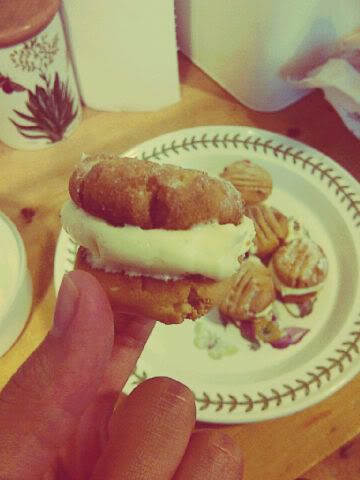 Now all my peanut butter is gone so i'm not sure what to do next/with my life!!
Off to a festival tomorrow, gonna get to see Price!
xx