Saturday night, the first bit of peace i have had all week!
I've been busy packing and training and worrying about all this India malarky and havent really had a moment to spare until yesterday!
It's sad because i can't really fully justify my tardy blogging, as in my whirlwind week i have still managed to steal some baking/eating time! I really must stop keeping all the baked things i make in the house! I keep trying to give it away but mum is always like 'ohh we might want it'. Honestly though, i think i have reached a point where i no longer want to eat what i bake, just give it out to make other people smile!
So, this all takes me to now, I actually started writing this post this morning in bed then obviously something needed to be done/a cat got in bed with us/mum wanted a coffee/ etc etc etc you get the idea! I then had to go off to the gym and to Jim's graduation (sob!). Now look at the time!
One of my greatest achievements of the week was finally sorting my wardrobe. Something i said i'd do before i went to uni... i'm going into my third year in September!!
I wish i'd taken before and after photos, the results are a beautiful colour coded wardrobe with piles of clothes i can actually look through!
I also went to ikea and saw some dream rooms and this cute rabbit in a garden centre across the road!
Now, on with some of the things i've baked.
Earlier in the week i made these
Brown Butter Jam Bars
.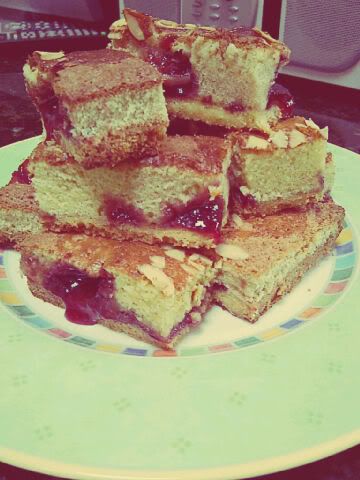 Mine were more just Butter Jam bars as i don't use real butter in my sponge, only in frosting and buttercream, so it didn't brown as much as i think it should AND it was sticking a little to my pan and i though non-brown butter was better than burnt butter! (as a side note, I'm a fan of Clover Light because it stops sponge being too greasy!) So here it is, adapted from
Crepes of Wrath
(i'd have a look at her pictures as some bits need a picture to make sense!!) They were amazing and oozy and yummy and delicious and i will most defs make them again for my housemates!
The Crust:
227g unsalted butter, room temperature
64g powdered sugar
192 g all-purpose flour
For The Filling:
3 large eggs
201 granulated sugar
119 g all-purpose flour
1 teaspoon vanilla extract
64g + 2 tablespoons unsalted butter, room temperature
1 table spoon of ground almond
1 cup jam or jelly, dealer's choice
1. Preheat the oven to 375 degrees F. To make the crust, melt 1 cup of butter in a pan at medium-high heat till the butter starts to brown. When the butter is amber in color and smells slightly nutty, strain through a sieve into a heat-proof container, such as a small glass mixing bowl. Place in the freezer for 30-40 minutes until thickened and semi-frozen. Combine the powdered sugar and flour in a large bowl, then use a pastry cutter or your hands (I prefer my hands) and add in the butter until a dough is formed. Press into a lined and/or greased 9×13-inch pan and chill in the freezer for 15 minutes. Bake for 18-20 minutes, or until lightly golden and set, then remove from the oven and set aside.
2. To make the filling, whisk together the eggs, sugar, and flour in a large bowl. Brown the remaining butter, then pour the butter into the egg mixture very slowly, whisking as you do it so the eggs don't scramble. Whisk in the vanilla.
3. Pour half of the filling over the baked crust, then spoon large dollops of the jam over the filling, reserving about quarter to top the bars with. Pour the rest of the filling over the jam, then spoon small dollop over the top with the remaining jam (you can add a bit extra jam if you feel like it needs it). Don't worry if it looks a little messy or weird, it'll look pretty when it's baked! Bake until the filling is golden brown in color, about 25 to 30 minutes, also at 375 degrees F. Or in an Aga on the bottom runners of the top oven with the cooling rack for 30 minutes and 5 minutes without the cooling rack to crisp up. Allow to cool completely (not that i ever do!) and cut into bars. Enjoy!
Next thing i baked were some
Chocolate Chunk Cookies
. I had the urge to bake at 10.30pm on Thursday night to show Jim just how much of a wizz i was in the kitchen. I think he was less enamoured with my skills and preferred the fact i smelt of cookie dough for the rest of the evening!! Again i used a Crepes of Wrath recipe because the Jam bars were so damn incredible!! I must admit they spread a little more than i thought but i love thin crispy cookies that are a little chewy in the middle, and that they were! Perfectly delicious but i am thinking up ways of getting them all to be perfect sized so i can give them away as gifts!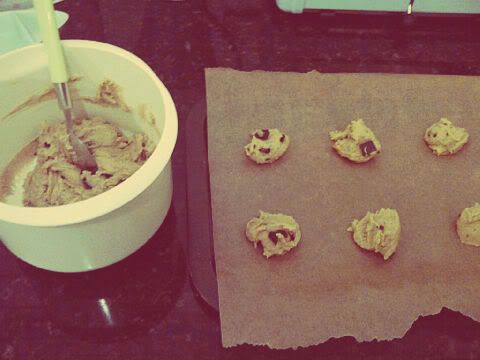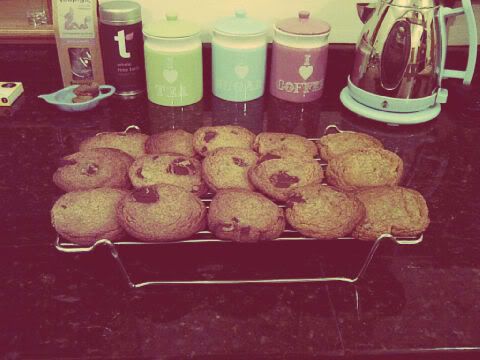 Last but not least, the Red Velvet Cupcakes for my sister's return (i have infact only got to see her for 20 minutes today as i had to go to the graduation!). This was a difficult one. I tried the Hummingbird Bakery recipe initially following it to the letter (which i rarely do!!) and the cakes weren't even red!!! They were just really chocolaty so Mum came to the rescue and found the Magnolia Bakery recipe and again these weren't as red and smooth as red velvets i've had in the past but defiantly a step closer; at this point after 6 tablespoons of colouring i'd run out of patience and made do with the second batch! If i was to make them again i would use the recipe from Lorraine Pascal's cookbook because it is an English recipe. Apparently there is issues with red colouring conversion from American to English recipes due to discrepancies in what is used to make it red or some rubbish about poison. All boring! I did make a delicious cream cheese butter cream though, sadly not using any scales!!
I will put the pictures up tomorrow as they are on Jim's phone! Silly meee. My piping skillz have improved and i was fairly happy with the results. Not quite perfection yet though... When i open my dream cake shop (i wish!) They wouldn't be on the menu just yet.
So quite a productive week all in all in terms of baked goods, training and preparing for India.
I'm not going to lie i am TERRIFIED, in a good way!
Tomorrow will be my last post. Maybe i'll write something worth reading!!
xx
p.s. i just tried on my airport outfit (no Louboutins and a Birkin bag for me sadly! it's walking pants and BSES t-shirt all the way!) and it made me realise nothing but the fact that i hate trousers! that is all :)