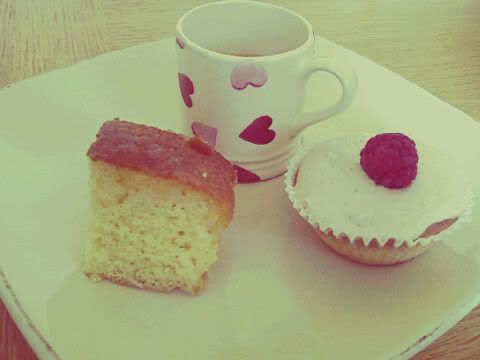 Here it is.
It has happened.
I. Have. Baked!
I can't tell you how lovely it was to whisk and whip, stir and smooth. My entry back into cooking heaven took place with
Raspberry Jam buns with Swiss Meringue buttercream
.
They were delicious! I only had half of one myself but in an attempt to avoid eating all the cakes I gave them away etc etc and was assured they were lovely!
Ingredients
- makes 12 cupcakes
Cakes
125g unsalted butter
125g caster sugar
2 eggs
125g self-raising flour
2 tbsp milk (I used skimmed even though it said not to!)
4 tbsp raspberry jam
2 tsp vanilla extract
Raspberries to garnish
Swiss Meringue buttercream
4 egg whites
250g caster sugar
250g softened unsalted butter
2 tsp vanilla extract
4 tbsp raspberry jam
Preheat the oven to 190(centigrade) or 170 if you're using a fan oven. Cream together the butter and sugar until lovely and fluffy. Sieve the flour and add to the mix with the eggs, milk and vanilla. Spoon half of the mixture into 12 paper cases and spoon a little jam into the centre, cover with the remainder of the mix. The recipe didn't call for the jam in the buns but I felt it went well with the buttercream and was a little treat for the eater!
Bake for 15 minutes and leave to cool!
Swiss Meringue buttercream
Place the egg whites and sugar in a bowl and heat over a bowl of simmering water. Stir, stir, stir for five to ten minutes or until all the sugar is dissolved. Remove from the heat and whisk on high speed like you are making meringue! Continue until thick and glossy and semi-stiff (technical term I know!) Add the butter (cube it or it will be VERY difficult to mix in!) and jam. At this point I thought I was having a small personal nightmare because it turned to the consistency of double cream. 15 minutes in the fridge sorted this a little and the buttercream was more like icing. I preferred this consistency as I wanted a smooth shiny topping, if you wanted to pipe the mix and it is as liquid as mine was leave it in the fridge for an hour or so and pipe away. Decorate with yummy sweet end of summer raspberries.
It must be remembered this can be done with any jam really and I'm sure it will be just as yummy!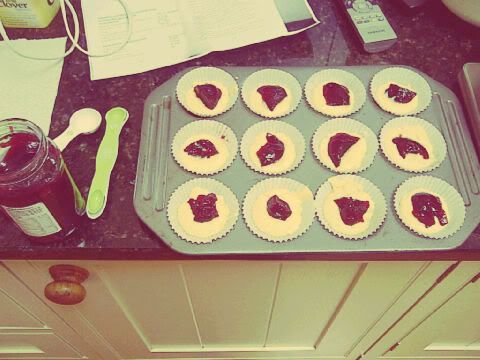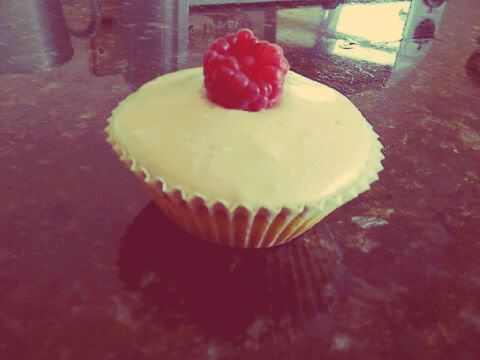 Life as ever has been rather hectic in the run up to uni but of course there is always time to bake. In the past two days I have made 2 other tasty treats but I shall save them for another post as this one is getting rather laborious! An India post is also in need.
For now, this shall be all.
Happy Weekend! xx