I was reading one of my favourite blogs the other day and came across 'Green Smoothies'.
Now, i love spinach more than most, only ever raw - none of this wilted nonsense.
The notion however of blending it with exotic fruits or berries however was not one that i thought normal or nice in any way.
I'm converted.
Here is the 'Exotic Green' -1 cup fresh pineapple chunks, 1/2 a banana, 2 big handfuls of spinach and 2 cups water.
I told my friend what i was drinking and she too used the words 'no, that sounds so weird'. It isn't. It is an absolute treat. One that i encourage any to try
I'm currently still full of a cold and nothing has made me feel like it's doing me more good. Elsie over at
A Beautiful Mess
tried out 5 concoctions and i'm excited to try them all and make up some of my own.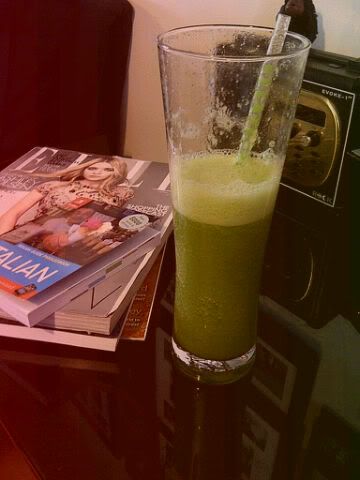 I dare you to have a try