Back from holiday, thankful for the absolute rest and relaxation.
I say that as though life is go go go back at home, it is not i assure you. Being a currently unemployed graduate means plenty of free time. That is until i move to Italy of course and actually start work!
Free time means i spend a lot of time thinking, mainly about one things, food.
That and watching whole series of US tv shows, Community, White Collar and Breaking Bad to name but a few. As usual, i digress...
These muffins were a lazy afternoons produce. Personally i was unsure whether to share the recipie at all as honestly i was a little let down by my own powers. Ten minutes ago however, my little (or not so little seeing as she is 16) sister said that they were her favourite thing that i've ever baked!! She's clearly never tried my tiramisu.
They were ever so easy and knocked together in about 45 minutes including bake time.
And don't let my initial disappointment put you off, i was only dubious because there just wasn't enough chocolate chips inside!
Chocolate Chip Muffins
300g Self-raising Flour
1tsp baking powder
50g Butter
80g Caster Sugar
150g Chocolate chips (i only had 100g spare, but maybe up it to 200g if you're greedy like me)
2 whole eggs
225ml milk
1tsp Vanilla Extract
The method is pretty standard.
Preheat your oven to 200C or put the cooling rack in the top of your aga.
Cream together the butter and sugar until light as air. Then add the eggs one at a time beating between each addition. Add half of the the dry ingredients, half the milk and the vanilla extract and mix until just combined, don't over beat because you want them light and lovely. Add the remaining ingredients (not the chocolate) and again mix until just combined. Here's a tip from me to you, put a teaspoon or so of flour into your chocolate chips and coat them all. This will stop them sinking through your batter in the oven and stop that weird chocolate layer that can form at the bottom from time to time. Add the chips to the mix and spoon into 12 cupcake cases.
Bake for between 15 and 25 minutes. Mine took 25 minutes to go golden brown but use your judgement as mine was an aga bake.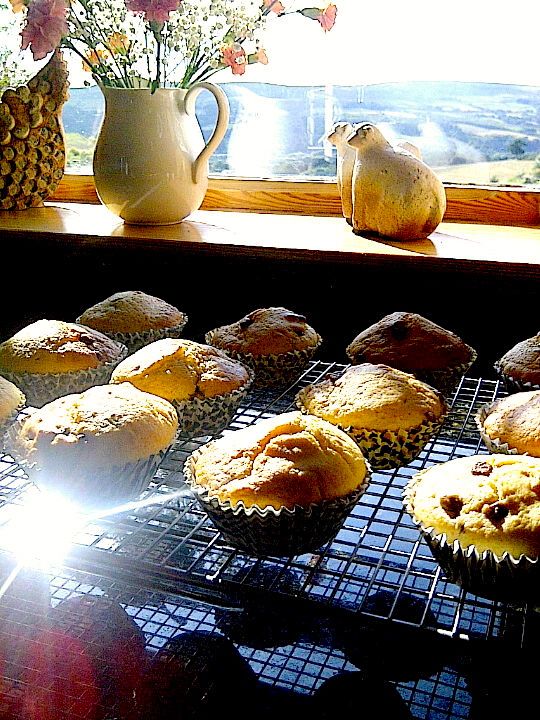 Eat them warm, Emma assures me this is when they're best.
Enjoy! x