Here i am, at last able to blog and show you a little of what i've been doing these last two weeks!
I moved over here to Au Pair for a family in Pontassieve a small town just out of Florence which just so happens to be a pretty central point in Tuscany so i've really managed to get around.
So we'll start closest to home, Firenze.
Florence is without a doubt one of the most beautiful cities i've ever visited. The streets twist and turn, with total disarray in some parts, but everywhere seems to lead back to the cental point of the Duomo.
This building has pretty much the most incredible facade i've ever seen on a building, religious or otherwise, anywhere in the world! I'd like to think i'm quite well travelled and have seen some real sights but, my jaw literally dropped when i saw The Florence Duomo for the first time!
I won't ramble on but be assured you must visit Florence, even just once in your lifetime.
Next on the Florence update, Food!!
Naturally the first thing i did on my first ever trip to Florence was find somewhere to eat. As a tourist it is easy to settle for the easiest thing. There are many many take away pizza joints or naff looking sandwich shops in the city. However for every tacky window is a secret street filled with hidden treasures. One such treasure is 'Ino (Via del Georgofili 3r) - you may pay a few euros more but from all accounts this place assembles one of the best sandwiches in Florence! Tucked on a tiny street behind the Uffizi it has a cool, sleek but rustic vibe with glass topped wine barrels for tables should you choose to eat in with a glass of wine. Ingredients are locally sources from Sienese salami to Tuscan pecorinos. Their bresaola, parmesan and tomato ciabatta is simply the most exquisite sandwich i've ever eaten!
Then naturally there is gelato! The italian specialty.
My first gelato experience was once to behold. A tub the size of my head and 6 euro later i was almost waist deep in gelato. I'd accidentally over gesticulated to the largest cup and even i couldn't finish the amount i was given. And boy did i try!
Since then i have found what i have been assured are two of Florence's best gelato establishments. The First is again a little further walk than your general on the corner gelateria, but totally worth it. Gelateria Santa Trinita (Lungarno Guicciardini) is one of the newest addition to the long long list of gelato makers in Florence. Just off the Ponte Santa Trinita (hence the name!) this place manages to achieve the perfect sweet and creamy balance. I tried their special of the day white peach and by god was it good! The flavours range from classics such as crema, pistacchio and fragola to the likes of liquorice and savoury gelatos, a real must visit! Sadly i lost the napkin from the second shop i was going to recommend but with time it will return to me i'm certain, so please don't let me forget!!!
Here's a few snaps from my aimless rambling about town.
The Duomo peeping round street corners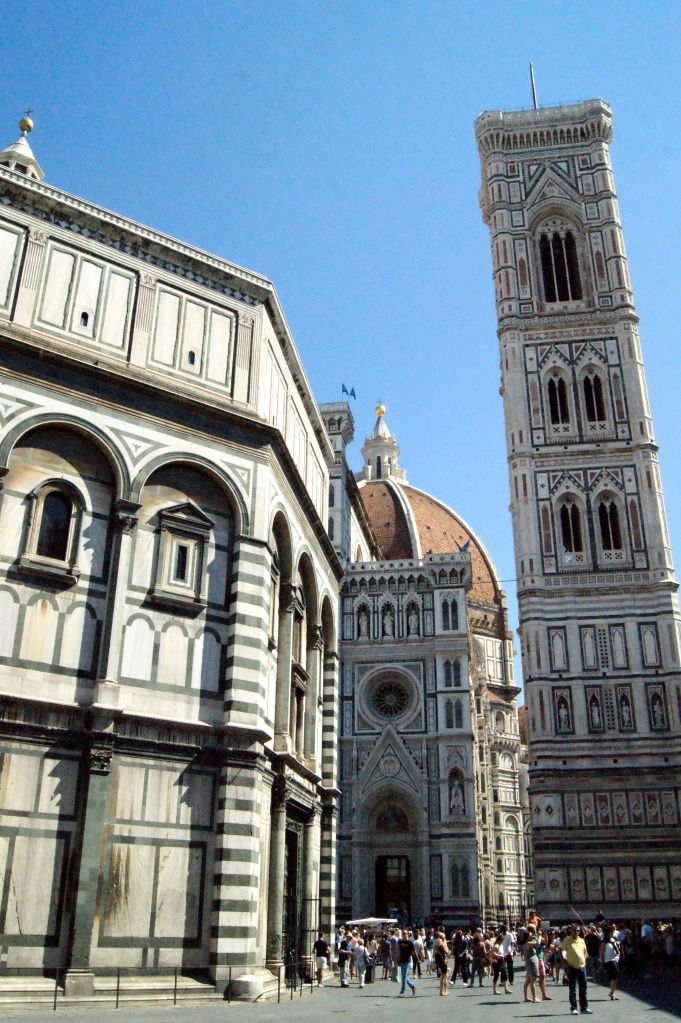 Tower, baptistry and main dome in all their gawdy glory.
Probably one of Florence's most famous views.
Quite probably my favourite shop frontage ever!!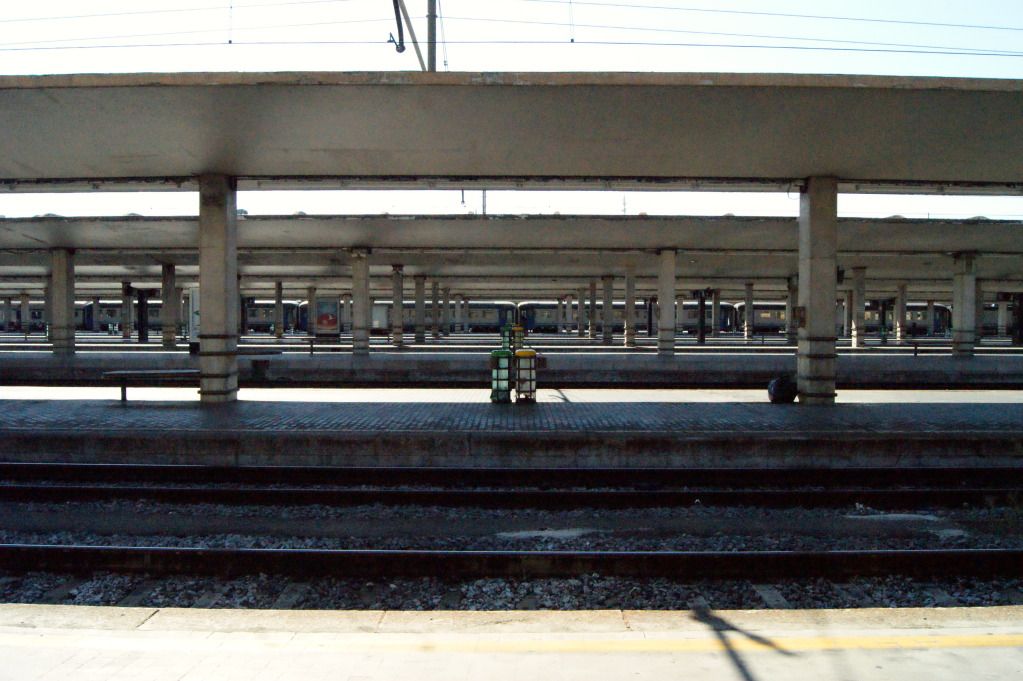 For such a beautiful city, the train station of one of the ugliest i've ever seen! This stands true for nearly all italian towns and cities!!
Next some more news... i'm actually leaving! In two weeks.
One lovely month and it's over.
In all honesty it's for the best. The family don't really need an au pair, meaning i sit around for many many hours a day waiting to be useful. Both parents are self employed ergo at home most of the time! I'll save the details but will fill you in on more of the fun places i've visited on my days off over the next few days.
Ciao for now x