Next stop last weekend was a Sunday in Pisa
Let's get one thing straight, Italy is basically closed on a Sunday; so, finding somewhere to go can always be abit of a challenge. Using my incredible intellect and spy powers (i watch too much spy tv!!) i realised Pisa's main attractions are outdoors ergo a winning Sunday out.
Getting of the train in Pisa you assume the station to be somewhat central. Never assume, i bought a map thinking it would come in useful but it turns out maps are only useful if you know where you started!! I spent a good 45 mins to an hour wondering round the back streets and residential areas of possibly the worst sign posted city in the world, ever.
Worth it though as stumbling across a sight like the leaning tower by accident is pretty an absolute delight.
Much larger and impressive than i thought, the tower really does lean! 'Errr yes Kate of course it leans' I hear you cry but no, really, its full on falling over! Apparently its lean is only about 4 degrees but when you're stood under it it certainly feels like more!!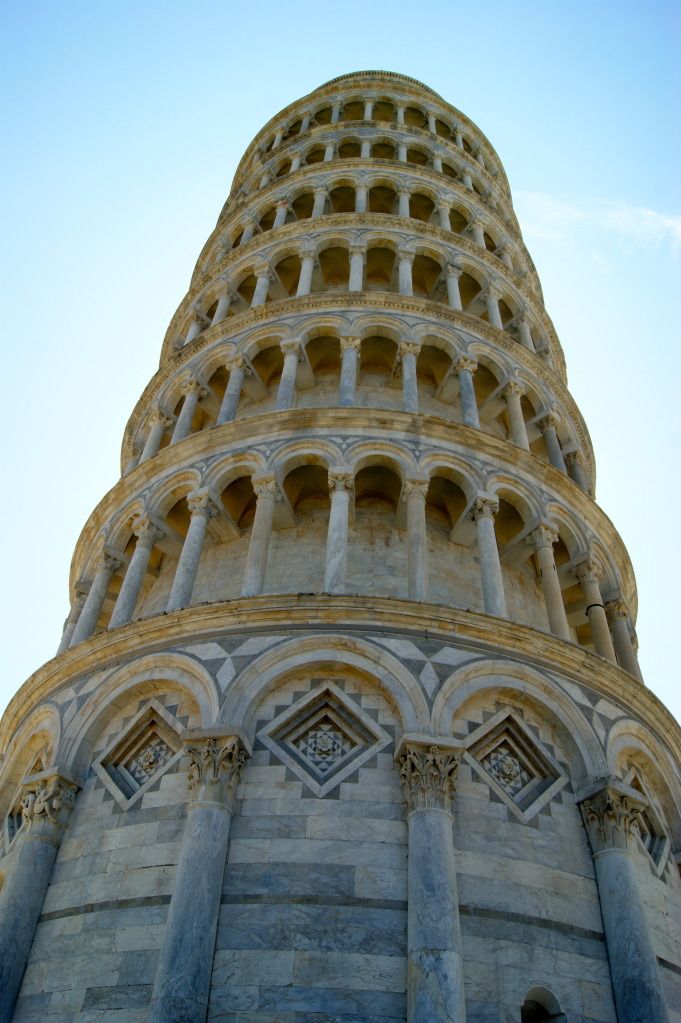 Dog in a back pack was also a highlight of the day!
After getting a few hopeless strangers to take just one decent photo of me (i kid you not, one person missed my whole head off!) i went into full tourist mode and boarded a big red pisa tourist bus! My feet were aching from my morning walking and honestly i have no shame in being a mega tourist at times.
We rode around and i learnt far more about Pisa in 45 minutes than i would have in a life time if i hadn't have got the bus.
Once i disembarked i found a delightful market that stretched miles and miles. Here is picked up my ultimate bargain purchase. A vintage Prada handbag for just 45 euro!! At the time i only had 20 on me so raced around the streets to find a 'banko-mat' or cash machine to those who don't speak half hearted Italian though far that some young fashionista would appear from nowhere and steal my perfect handbag. Alas they did not and so far it has proven to be worth every penny!
Overall Pisa was worth the day trip. The comfy lofer to Florences dazzling heels i'd say.
On my way home i popped into the Museo Salvatore Ferragamo in Firenze as i'd heard there was a Marilyn Monroe exhibition showing there. If you are in Florence before the end of January you must go and see it. For just 5 euro there is not only the shoe exhibition but some fantastic photos and portraits of Marilyn, a beautiful show reel, all of her most famous dresses and a really interesting part on how her rise through popular culture relates to renaissance art. A must visit in my opinion.
xx
p.s. take a look at Pisa's train station, what did i say about ugly Italian train lines!!