Some good news, i've got a temporary job!
I shall be taking on the role of Cheese Baron at a local deli. By Cheese Baron i of course mean Deli Assistant but hey we're all allowed to embellish are we not. A good friend of mine told me about the job so my thanks much go out to her publicly as it is she who has single handedly cured my weekday doom.
So here is my last week of sitting around watching telly for the duration.
I'm a little more hopeful about real jobs and such again and have of course continued to apply profusely to varied establishments.
I also have a new project - to redecorate my bedroom. I'm getting all new grown up furniture, a new wardrobe (which is sad as i love my Narnia size wardrobe currently but the door has fallen off so it must die a sad death!), new book cases with doors and the best of all, a new bed! A real grown up bed for grown ups. I shall of course show you all my new room when it's done in two weeks time. I can't begin to express how excited i am.
Now onto macaroons.
I have attempted the French Macaroons that we all know and love. Not a great experience! They tasted great but the aga didn't do them justice.
I decided to go for their less stylish cousins, the Coconut Macaroon.
Normally when i have left over egg whites (today due to last night's smoked salmon carbonara) i just make meringue because they're so easy to bash together but, mum already has some in at the moment and i must say i love a good Marks and Spencer meringue! These beauties are the perfect combination of meringue and coconut with a little bit of cheeky dark chocolate on top. Stupidly easy to make i feel like it's a bit of an insult to call this a recipe.
Coconut Macaroons
4 egg whites
1 tsp white wine vinegar
1tsp vanilla extract
150g caster sugar
60g ground almonds
400g desiccated coconut (Nigella says shredded, oh well!)
100g dark chocolate
Preheat your oven to 170C or put a cooling rack about half way in the aga.
Beat the egg whites until frothy, add the vanilla and vinegar then beat until soft peaks are achieved.
Add the sugar in bits at a time, I remember Nigella once said a tablespoon at a time but who can even be bothered with that! Just don't do it all at once. Whisk until the peaks hold their shape and are nice and shiny.
Fold in the coconut and ground almonds. This part was so lovely and therapeutic! The mixture won't be sticky but the coconut should just hold together. Don't worry about losing volume in your meringue, that isn't the point. If anything the more compact the better so they don't fall apart once out of the oven and still warm!
Form your balls of coconut. I used my 'cake pop scoop' that i have never used to make cake pops but for cookies etc. Be inventive, do what you like! With my scoop i made 40 bite size macaroons. It's all up to you how you do this of course.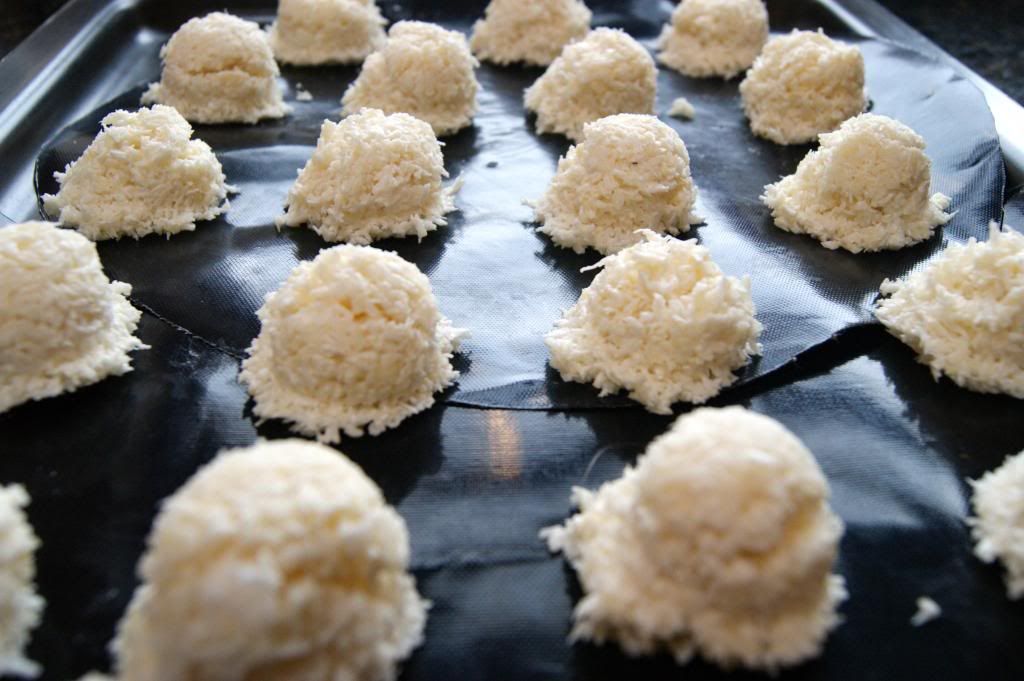 I baked mine in the aga for 12 minutes. The recommended time is 20 minutes for clementine sized macaroons, mine were smaller ergo the lesser time.
I decorated mine with the chocolate but feel free to do what you like.
A vague-ish recipe that you can do what you like with.
This recipe can be so easily adjusted to the amount of egg whites you have, so bake away! Put some pink food colouring in to make them pretty or shape them into little pyramids for a more traditional approach. They are perfectly crispy on the outside and really chewwy and perfect and yeah, you get the idea.
Love x