I woke up this morning in a markedly better mood having been out for a gluttonous dinner with my bestie at the Aubaine pop-up restraunt at Selfridges in Manchester. We polished of lobster and steak and moaned about life!
I realised that sitting around moping hasn't helped so decided to do something good for the soul. I baked! Bread is one of my all time favourite things to make even if i'm not very expereiced. There is something otherworldly and theraputic about kneading dough and smelling like fresh baked bread all day. It's also totally time consuming so during the rises i had a got at a few more job applications and dreamed of soft pillowly warm pretzels!
If you have a spare few hours i'd reccomend these little beauties because they taste amazing (The totally non-traditional matrimony of Chilli Con Carne and pretzels was the perfect surprise) and of course my sweet ones will be perfect for breakfast with jam and fruit or warm with too much caramel sauce.
Soft Pretzels
dough ingredients:
500g plain flour
270ml of luke warm water
50g melted butter
25g active dry yeast
12g salt
12g light brown sugar (up this to 60g if you want sweet pretzel dough)
to boil:
500 ml water
6 tbs baking soda
Combine the flour, 50ml of the water, sugar and yeast in a big mixing bowl. Leave in a warm place to rise. You won't get much action here but you just need your yeast to feast a little on the sugar.
Dissolve the salt in the remaining water and pour over your floury mixture with the melted butter. Combine with your hands and kneed for about 10 minutes until you have a soft, not sticky dough.
Cover with cling film the the bowl and leave to rise in a warm place for an hour or until doubled in size.
Once massive and pillowy re-kneed and divide into the desired amount. My dough weighed about 850g so i made 10 mid-sized pretzels. You could make 8 big ones or 4 gigantic ones if you like!
Roll out a rope of dough and make your pretzel shape. I'll admit i followed an online 'guide' but shhhhh. Leave to rise on a floured dishcloth for another 20 minutes.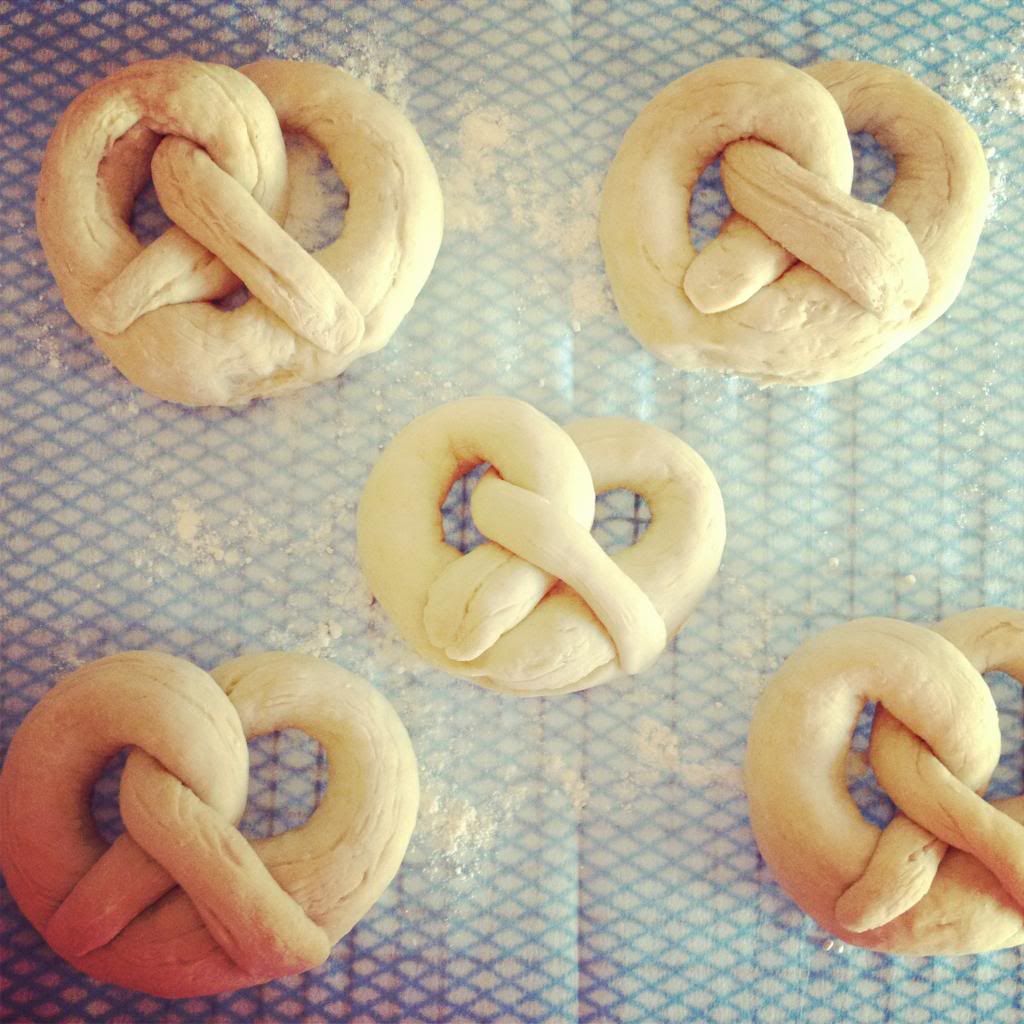 Next is the fun part, the boiling!
Bring your water to the boil then carefully add the baking powder. The pan will go insane and you may or may not ruin your mum's aga a little in the process... Place your beautiful pretzels one at a time and boil for 30 seconds each. Let them dry a little, sprinke over your desired topping (half salt crystals and half light brown sugar in my case) and bake at 220C for 20 minutes until golden brown.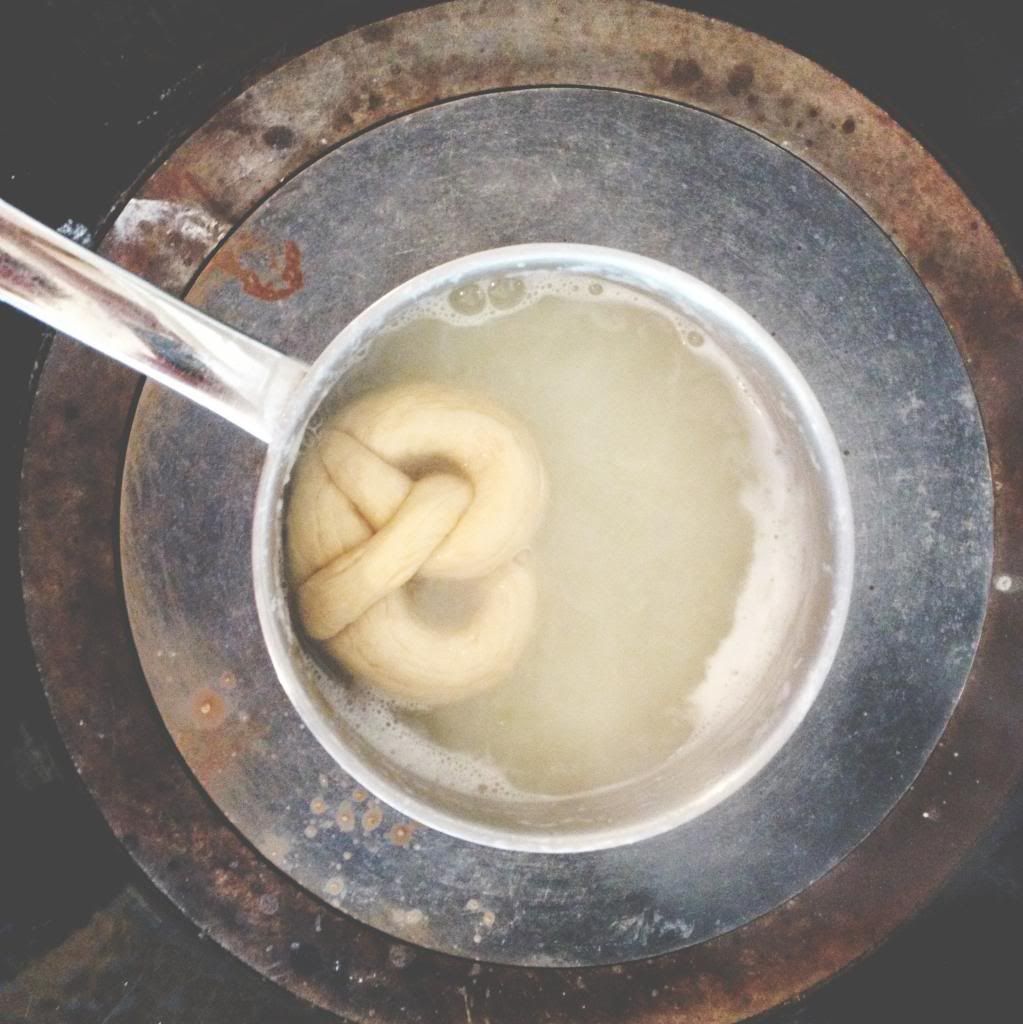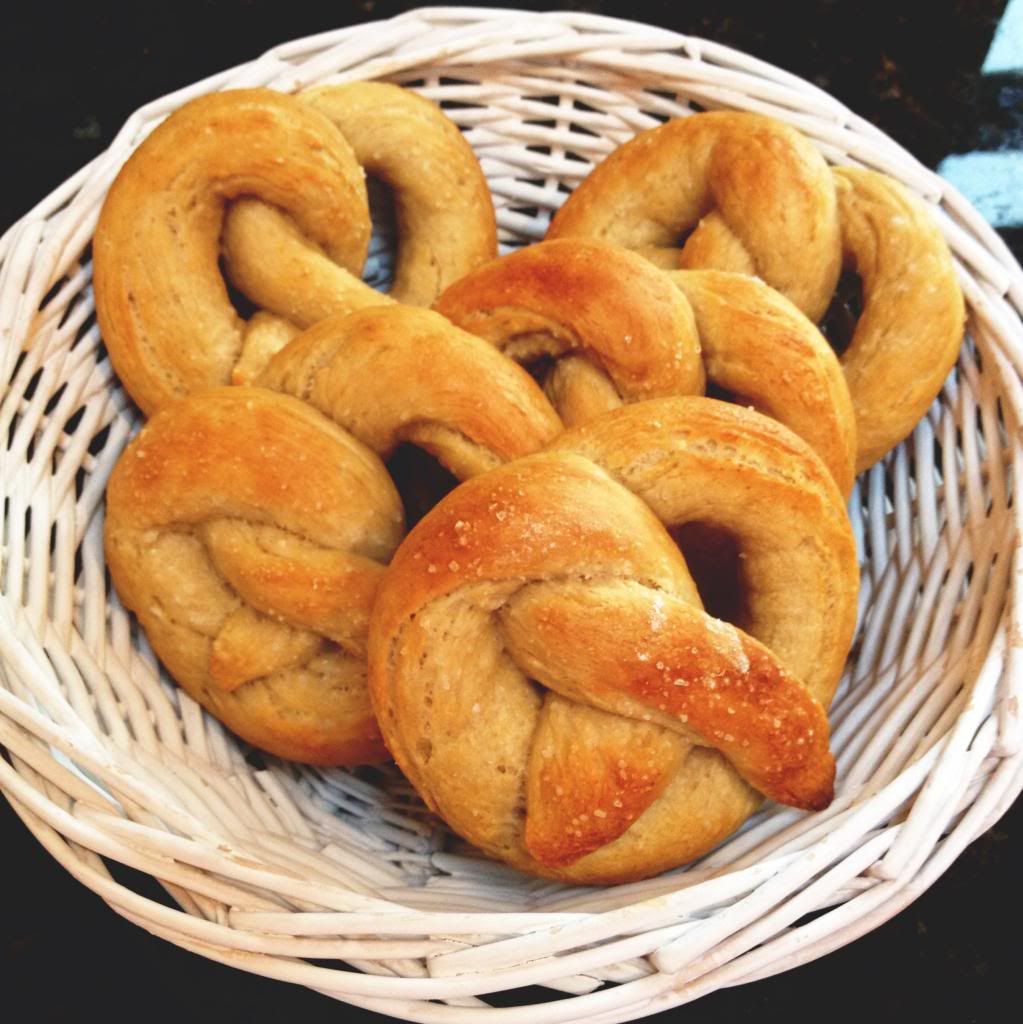 These little beauties are so tasty and you won't regret the hard work gone into them! The only thing i would do differently when i make them again is the definite addition of an egg wash before they go in the oven, that's just personal preference though. Mine were demolished with dinner, although as pointed out by the baby sister they are rather filling.
Enjoy x